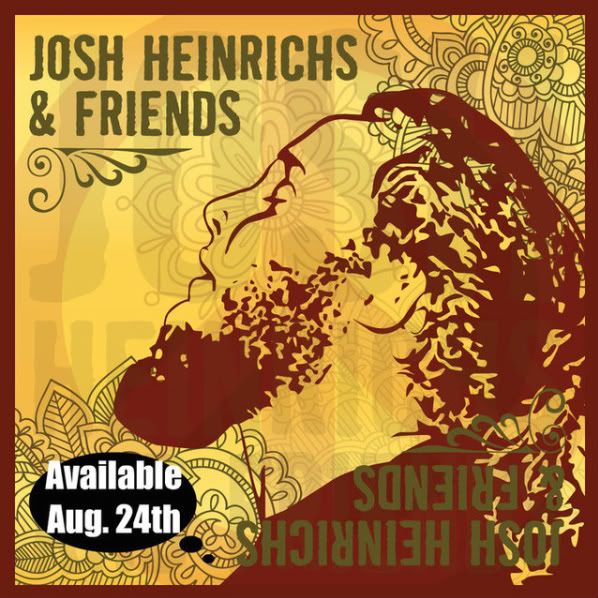 In the summer of 2010, Josh Heinrichs will be releasing his highly anticipated, first full length, solo album since disbanding Jah Roots last year. The album, 'Josh Heinrichs & Friends,' will feature a diverse & highly talented mix from today's current, international, reggae scene. Some of the artists collaborating in the studio with Josh are Cas Haley, members of Katchafire, Inna Vision, Ooklah The Moc, Clear Conscience, 77 Jefferson, as well as others, yet to be announced.
Josh Heinrichs founded Jah Roots in 2001, along with four musician-friends from his hometown of Springfield, MO. Over the following eight years, they released five studio albums and toured extensively throughout the USA. During this time, Heinrichs wrote a number of songs that eventually gained fantastically large on-line notoriety, and were downloaded en masse all over the world. The band's success was recognized in the official media outlets of such locales as Guam, Hawaii and New Zealand. However, after years playing to overflowing crowds at outdoor festivals and packed mid-sized venues, the toll of non-stop touring began to take a personal toll, and Heinirchs decided to step away from the band he had taken so far, in order to devote more time to his wife and children.
Be on the look out for Josh Henrich and Friends to be released on August 24th. Today's Toker Tune is a live version of "Spliff and My Lady from the CD "Josh Heinrichs and The Soul Riddim Band Live at Schwagstock.
You can check out more Josh Heinrichs music and his tour schedule at www.facebook.com/JoshHeinrichsReggae www.myspace.com/joshuaheinrichs and you may purchase Josh's music on i-tunes Josh Heinrichs
Audio clip: Adobe Flash Player (version 9 or above) is required to play this audio clip. Download the latest version here. You also need to have JavaScript enabled in your browser.
Download Link: Secret Stash - Register to access