First, from FOX Freedom Watch's excellent Judge Napolitano: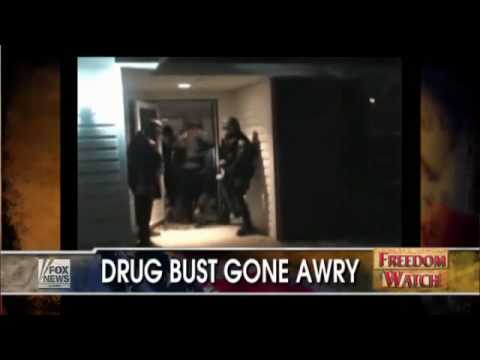 Second, from one of our loyal followers who contacted PETA about the Missouri SWAT Dog Shooting:
Thank you for contacting PETA.

We share your concern about the circumstances under which these dogs were shot. We understand that the responsible agency is conducting a thorough internal review of the incident, and we sincerely hope that this review will lead to policy changes that will ensure that it is never repeated.

These tragedies happen more often than one would imagine. It seems we're inundated with calls every week from people whose dogs were shot by law-enforcement personnel. Officers appropriately resort to deadly force when they believe that their lives, or the lives of others, are in danger. But sometimes officials draw their guns unnecessarily or too quickly. Regardless, it's important that all officials whose work brings them in contact with animals be trained to deal with animal situations effectively and humanely. We often recommend that agencies take advantage of the National Animal Control Association's training programs (http://www.nacanet.org) for that reason.

If, after reviewing state law (http://www.animallaw.com) and local law (http://www.municode.com), it is believed that a government agency wrongfully injured or killed a companion animal, the shooter could face prosecution, and the animal's guardians may be able to sue.

It is important for any companion-animal guardian to be familiar with the laws that afford their loved ones protection from every kind of abuse. For more information at your fingertips, you may wish to read Dog Law: A Legal Guide for Dog Owners and Their Neighbors, by Mary Randolph.

Thank you again for writing and for your concern for animals.

Sincerely,

The PETA Staff
…but PETA's not going to do jack about it by publicizing this as much as they'd protest some actress wearing a fur coat or a biker wearing a leather jacket.
Third, as the video is close to topping 1,000,000 views, the Columbia Police apologists have come out in force on the blogs, including this one, to put a rest to all the "misinformation" out there:
Kinloch Court Search Warrant Update

Columbia Police officers served a search warrant at 1501 Kinloch Court, in Columbia, at 8:27 p.m., on February 11, 2010. The search warrant entry team consisted of eight SWAT members and the perimeter team consisted of three officers, one of whom is a SWAT member.

Upon entry, the officers immediately encountered two dogs. During the search warrant, one of the dogs was shot and killed. This dog was a breed commonly referred to as a "pit bull".
According to the search warrant affidavit, this is what the officers knew as they were barging in late at night in full body armor and toting automatic weapons:
There is reason to believe the crime of "MARIJUANA, A SCHEDULE I CONTROLLED SUBSTANCE and the evidence of the crime of drug trafficking to include records, phone numbers, cash, and apparatuses to facilitate the use and distribution of controlled substances" is being committed at the residence.
"[A] cooperating citizen with a history of truthfulness and reliability… advised Jonathan Whitworth is selling large amounts of high grade marijuana in the Columbia area."
"[A]nother cooperating citizen who has proven reliable and truthful on numerous occasions… has observed a large amount of high grade marijuana inside Whitworth's residence within the past 10 days."
"During an examination of the contents ofthese trash bags, I found… a baggy containing [THC] residue and numerous items of drug paraphemalia with [THC] residue on them."
"Jonathan Whitworth has numerous previous arrests including resisting arrest, possession of marijuana, delivery, manufacturing controlled substance prior/persistent offender and DWI. The Columbia Police Department has received information dating back to 2003 indicating Whitworth' s involvement in the sales and distribution of controlled substances."
Notably absent from this crack detective work and plea to a judge to allow Detective Dogkiller and his stormtrooper buddies free reign to bust in Whitworth's door and start discharging automatic weapons…
Whitworth is living in the home with his wife and 7-year-old son.
Whitworth has two dogs, a pit bull and a corgi, in the residence.
Do you think a judge would be so quick to sign that warrant with that information?  (Don't answer, because he probably would.)  So this entire invasion was based on pot that wasn't there with no knowledge of children and pets that were there?  Didn't your garbage snoop turn up any kids juice boxes, baggies of dog poop, or anything other than discarded pot baggies and pipes?  Did you not observe anything at the home over eight days between warrant and raid to indicate there were dogs and a child present?
The defendant, Jonathon Whitworth, was arrested.

The police department has received numerous inquiries from citizens who have received misinformation. While the investigation is still ongoing, the department recognizes the need to provide information prior to its conclusion to clarify some specific questions, many of which are based on misinformation.

* The pit-bull type breed dog was not confined; it was not in a cage and it was not behind a gate.
* The other dog, described as a Corgi, was not killed. This dog is believed to have been struck once.
"Believed to have been struck"?  What, we need further investigation to determine whether the audible yelping in the video and the visible damage to a corgi's paw was the result of your officer's gunfire?  And oh, it was a pit bull that was killed, not the corgi?  Well, then, that makes it all OK, now, doesn't it?  Pit bulls deserve to be killed, is that it?
* The defendant's wife and child were at the residence. However, neither was in the presence of the officers or dogs when the dogs were shot.
Oh, so the child didn't actually see Detective Dogkiller shoot his pets, he only had to hear gunshots, his pets yelping in agony and terror, and only saw one of his pets' corpses as a body-armor-and-mask-clad stranger with a still-smoking weapon led him and mom out of the house while others were manhandling and screaming at his daddy.  Sure, there were seven bullets flying around the home, but none of them pierced the paper-thin walls to harm the child, so it's all good, right?
* The officers did not force entry into the home. The door was unlocked and an officer opened it.
So, you're telling me this big time drug dealer goes to bed at night without locking his front door?  A guy you presume to have large amounts of high-grade marijuana and cash related to drug trafficking in the home, a guy by your accounts is a repeat offender well versed in the drug trade, leaves his front door unlocked.
* The search warrant was not served for a misdemeanor amount of marijuana. The Columbia Police Department does not pursue search warrants for misdemeanor amounts of marijuana. The search warrant was for Marijuana, A Schedule I Controlled Substance and the evidence of the crime of drug trafficking. A copy of the affidavit is attached.
In other words, we only go to the trouble of bursting into homes at night, terrorizing women and children, and killing family pets if there's more than 35 grams of marijuana involved and the suspect is selling it to other willing purchasers.
* A diversionary device or "flash bang" was not deployed during this incident

Police Chief Ken Burton requested the Internal Affairs Unit conduct an investigation into the uses of force involved in the incident. A total of seven shots were fired.

The investigative review also examines training practices, and the department's current practices in general with regard to the service of search warrants. Since that time, the department has received inquiries from individuals expressing a desire to know if an investigation is being completed.

Upon being briefed about the incident Chief Burton concluded that this search warrant should not have been served in the delayed fashion that it was, but rather should have been disregarded when the department was not able to serve it within a reasonable time. He has made members of his department aware that policy changes with regard to search warrant service are underway. In the interim, he will personally be responsible for approving search warrants in which forced entry may be required.
See, the problem isn't that we're bursting into homes at night, terrorizing women and children, and killing family pets over marijuana.  The problem is timing.
When the internal investigation is complete, a news release will be issued with its results.

Many phone calls and e-mails are being received by the members of the police department, as well as other City departments, regarding this incident. The department is doing its best to reply with a statement to the inquiries that contain a legitimate e-mail address or phone numbers, and which include questions that we can answer at this time.

Chief Burton has proposed changes to the department's Narcotic Search Warrant Service Protocol. View those changes here.
http://www.gocolumbiamo.com/Police/Documents/NarcoticsSearchWarrantProtocolChanges.pdf

View a copy of the search warrant affidavit here.
http://www.gocolumbiamo.com/Police/Documents/AffidavitKinlochCourtsearchwarrant.pdf
Make all the excuses you like, Chief, but it still boils down to this:
Cops broke into a man's home over marijuana.
Cops fired seven bullets in a home where a child was sleeping.
Cops killed one family pet and wounded another.
Cops didn't find any evidence of the felonies for which the warrant was served.
All these explanations are meaningless until you accept the premise that this level of force is appropriate to keep people from using marijuana. The proposed changes by the Columbia Police still allow for "dynamic entry" to bust into people's homes to keep them from using marijuana. All this document represents is embarrassment that the cops were caught on video executing these commonplace tactics and promises to make sure that the next time they burst into a home late at night guns blazing to catch someone with marijuana, they'll try to be sure there are no kids around.
Or as Pete Guither at DrugWarRant so eloquently puts it:
The proof of this failure is evident in the statement by Deputy Police Chief Tom Dresner:

"If we were searching for stolen televisions in his house, there is no reason for SWAT," he said. "He can't flush televisions."

He doesn't even get the wrongness underlying his statement.

The entire philosophy behind SWAT-style drug raids is that the death of a mother, a child, or the family pet is an acceptable risk to prevent flushing. (Deep Thoughts)

What makes it worse is that you can't actually flush large amounts of marijuana.
Remember, folks, this isn't just Columbia, Missouri, this is commonplace all across the United States and comes straight from the top.  Federal funds are abundantly distributed to local law enforcement agencies through mechanisms like Byrne Grants to buy military-style hardware and conduct aggressive anti-drug efforts.  This raid is the expected result of our national War on Marijuana Users.