In a town Hall meeting in New Hampshire this week, Republican Presidential candidate Newt Gingrich was asked by a student if Thomas Jefferson and George Washington should have been arrested for growing marijuana. The former Speaker of the House, author, political consultant and history teacher's answer was that he thought that Jefferson and Washington would STRONGLY discourage you from growing marijuana and that their tactics to make you stop growing it would be more violent than they would be today. To be fair…they do leave out the part of both founding farmers growing hemp in most elementary school books.
Iowa Caucus sweetheart, Rick Santorum didnt fare any better with student voters this week. He was speaking at a forum hosted by New England College where he was asked by a student why conservatives tend to favor states' rights except in the case of medical marijuana. The Republican candidate said that he didn't know the medical cannabis laws, but answered, that he believed marijuana use is dangerous based on his personal experience..adding, "I went to college too!" – a response that solicited boos from the crowd.
And about the leader of the race, top contender and Iowa Caucus winner, Mitt Rommney – a student from SSDP – the Students for Sensible Drug Policy – asked Romney after the event is views on Industrialized hemp. Romney clarified back to the student.."Industrialized hemp?" they student asked again, and he answered, I'm sorry, I don't know what industrialized hemp is. That as Wednesday at a Town Hall Meeting in Peterborough NH.
External Links: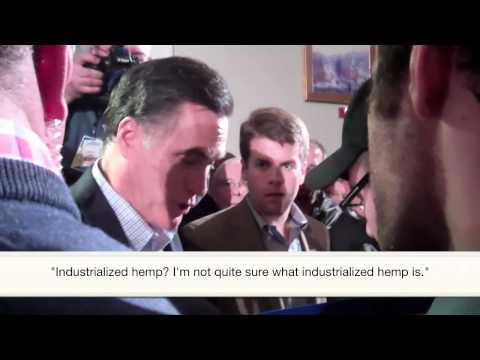 http://www.huffingtonpost.com/2012/01/05/rick-santorum-medical-marijuana_n_1187434.html?ref=fb&src=sp&comm_ref=false#s494749&title=Related
http://thehill.com/blogs/ballot-box/gop-presidential-primary/202665-santorum-booed-in-new-hampshire-over-same-sex-marriage-views